This #GivingTuesday – Give Possibility & Get A Gift From A Fresh Chapter
It always seems impossible, until it's done. ~ Nelson Mandela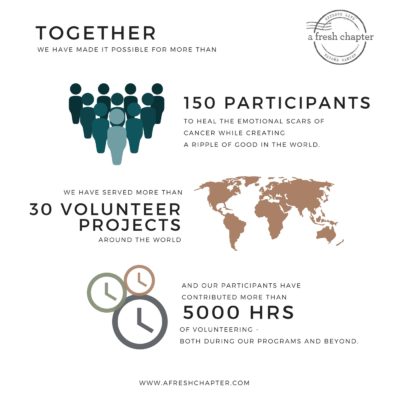 Six years ago, I could never have imagined that A Fresh Chapter would grow into a movement with an army of volunteers, supporters, and donors. Together, we are creating a world where through serving others, we are reminded of our own resilience and strength. A world where it's possible to heal, build new connections, and find peace even amidst the uncertainty of cancer.
This #GivingTuesday, please join us as we redefine what is possible after cancer: http://bit.ly/AFCGivingTues
What Impact Will You Make With Your Donation?
Your support will help us fund 5 scholarships for people financially and emotionally devastated by cancer. These recipients will join us for two weeks of volunteering in either South Africa or Peru as well as benefit from our full 6-month framework of support designed to help them navigate through the uncertainty, isolation, and fear caused by cancer.
Through your contribution, you will make an incredible difference in the lives of our scholarship recipients and then see how it ripples out into their families, communities, and the world. Please donate and then join us at here at A Fresh Chapter as we continue to share their impactful stories.
Redefining What Is Possible After Cancer: AFC's 2017 Year End Campaign on Crowdrise
The First 100 Donors Over $100 Will Receive A Gift From Our Travels
During the closing circle of every program, we give a little gift to our participants as a token of their travels – something to carry with them as a physical reminder of the powerful experience we have shared. Now we want to share a token of our travels with you. Be one of the first 100 donors to give $100 or more this holiday season, and we'll send you a little something to remind you of the lives you are transforming through A Fresh Chapter.
Will You Help Spread the Word?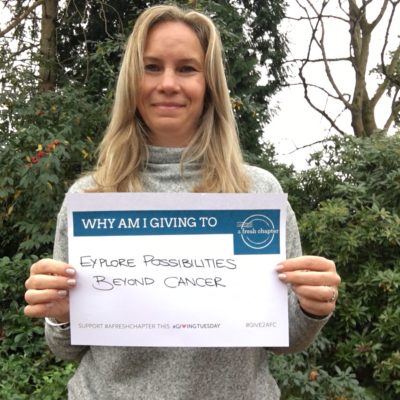 The selfless selfie, is a powerful way to show how and why you are giving. Here's 3 quick steps to becoming a master:
Take a "selfie" with a caption or use our template to explain how or why you and/or
your friends are giving.
Add the hashtags #GivingTuesday and #Give2AFC
Post it to Instagram, Facebook, Twitter – share far and wide & get your friends to join
you!
Thank you for being an instrumental part of our tribe. Together we are changing the world and we're so glad you're here.
This #GivingTuesday, please join us as we redefine what is possible after cancer: http://bit.ly/AFCGivingTues