A Fresh Chapter Alumni Spotlight: Theresa Marsella
Today's guest blog post is written by guest writer, Ron Stempkowski, and features the story of 2016 Elemental Odyssey participant, Theresa Marsella.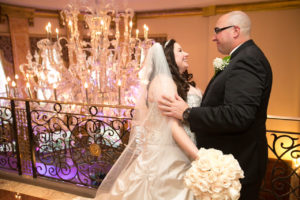 Shortly after being diagnosed with stage 1 ovarian cancer, Theresa Marsella, a 33-year-old teacher, learned she also had previously undiagnosed stage 3 uterine cancer. Engaged (now married) to a police officer with the New York Police Department (NYPD), it has been her greatest wish to have children. However, after a complete hysterectomy to remove the cancer, her dream no longer seemed possible.
"I had cancer," she said. "Why did I have to lose my fertility as well?"
She wrestled with this "death" through the first year after her diagnosis. Though happy for others around her who were pregnant, it was a painful reminder of a deep and gnawing loss.
She'd been an active member of SOUL RYEDERS, a nearby cancer support organization in Westchester County, New York. But Theresa was dealing with more than cancer and the sometimes-debilitating fatigue of radiation and chemotherapy treatments. She was grieving the loss of her fertility and her ability to bear a child. She needed another kind of support.
"They [SOUL RYEDERS] knew I needed something, and that something was A Fresh Chapter," she said.
In partnership with SOUL RYEDERS, Theresa received a grant that allowed her to participate in A Fresh Chapter's one-week Elemental Odyssey program in April 2016. So, four months out of treatment and with a passion for experiencing life, she boarded a plane and flew across the country for the seven-day trip.
Emboldened by recently beating cancer, Theresa was ready for this experience. She wanted to meet people who were in the same place. She wanted to share her story as much as she wanted to hear theirs. And most importantly, she wanted to get her "sparkle" back.
Her seven-day Fresh Chapter program began in Los Angeles where the group did community-based volunteering, including volunteering at a homeless shelter. Some of the activities were a little outside of her comfort zone, but she did them anyway.
"I would have done anything on that trip," she said.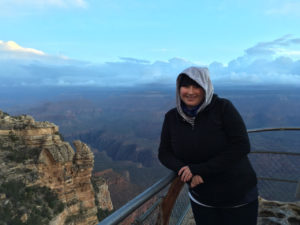 After participating in service, reflection and team actives in Los Angeles, the tribe headed to Flagstaff, Arizona to bear witness to one of nature's greatest wonders: sunrise over the Grand Canyon.
Theresa felt very small standing at the rim of the Grand Canyon. But it was there where she would experience her greatest "ah-ha" moment. As she would later say, "When I stood at the rim of the Grand Canyon, I thought – if I can be at peace here, I can bring it home with me."
During the group's "burning ceremony" – where members of the tribe wrote down something they were going to let go of – Theresa realized she'd been gripped by the grief of losing her fertility more than she could have ever realized. It was a kind of death – one that hadn't been given its due mourning period. In an effort to begin to let it go, she wrote about it and then set it on fire to scatter to the winds.
The trip was a blur of activity, camaraderie and emotion, but what stands out most to her was the bonding – the connecting – with others who had experienced what she had. Being on a level playing field with people who could truly understand the pendulous range of feelings she'd experienced was like an elixir to her mending spirit.
"I came back a different person," Theresa explained.
The experience with A Fresh Chapter helped Theresa reframe her experience with cancer. Though not able to physically bear a child, it helped her realize there were other ways in which she could be a mother. To that end, she and her husband began a fundraising campaign to raise money to start a family either by surrogacy or adoption. The campaign is aptly named "Always Have Hope."
"I see how far I've come," Theresa said. "I thought it would never happen. But once it started happening, it happened fast."
What would she say to someone who had the opportunity to be part of A Fresh Chapter program?
"Do it! It will change your life," she said. "Because it changed mine.