How India Shifted My Perspective & Could Help You Start Fresh
If you asked me in 2009 if I would ever travel to India, I might have pretended to consider it. But, internally, I would have thought – India?!? Why would I go there? I imagined blaring horns, unruly traffic, smelly garbage, and jostling crowds. Sure, I liked butter chicken and the idea of beautiful saris and temples, but I didn't need to travel there. I could stay safe in a world of Indian takeout and dancing to Bollywood music at a friend's wedding in Canada.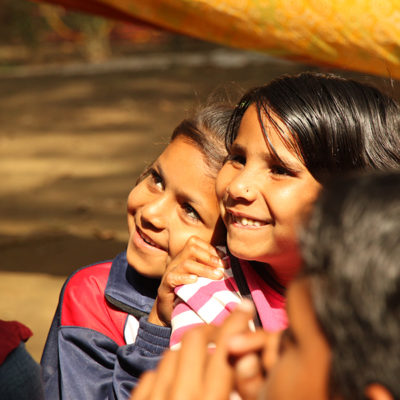 Then, in the fall of 2011, India became a terrifying possibility. I had just returned from a post-cancer, life-changing volunteer experience in South Africa. I wanted to help others heal through volunteer travel, but knew nothing about how to make this idea a reality. Somehow, I concocted a scouting trip around the globe: 7 volunteer partners. 6 months. 5 continents. I planned to skip India entirely until a sponsorship from Cross-Cultural Solutions came through: 3 weeks volunteering in New Delhi. I almost said no, but I couldn't figure out to how to wiggle out of it.
Thank God I didn't.
India has a magic all her own. Whether it's weaving through a symphony of traffic, having your world-view rocked through volunteering, or eating the best meal of your life, there is no doubt you are in a different world. A world where cancer, day-to-day responsibilities, and your fears of the future all feel a lifetime away. Even though my first experience in India, 5 years ago, pushed me way out of my comfort zone – including through my challenging volunteer placement with Mother Teresa's – it also gave me confidence. In spite of my initial fears, the people I met instantly made me feel safe and like I belonged. I knew I wanted others to experience both the apprehension and exhilaration of volunteering in India. So, in February 2013, our original Delhi Dozen joined us for 2 weeks of volunteering and the beginning of their fresh chapter. Since then, we have had almost 50 alumni step beyond their comfort zone(s) and into an unforgettable new world.
Will you be next? 
Applications for our March 2018 India Odyssey program are open until Wednesday, September 13th. To learn more about how you can explore life beyond cancer, visit our India Odyssey page and Apply Now.
India – Through The Eyes Of Our Tribe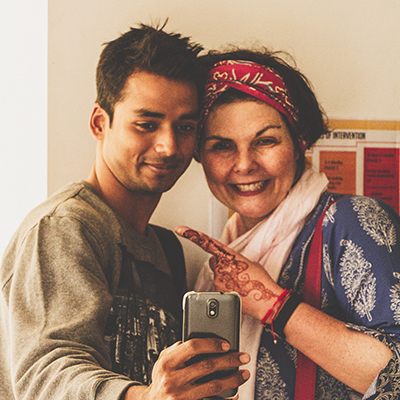 Leslie (2015 India Odyssey): First, cancer took the color out of my life. My days became a draining parade of doctors' visits, arguing about medical bills, and doing grunt work to pay them. Worrying about my future, whether the cancer would come back. Wondering if my identity was now "cancer girl." Then I arrived in India. Everything was different. Brilliant with color, filled with strange sounds and smells. And then there were the other Fresh Chapter tribe members. I thought I was allergic to groups, then I found myself a member of this amazing family, new friends who had no trouble seeing the new me, because they didn't know the old, and weren't burdened by expectations or history. I could be myself, figure out who that person now is. And I found a way to connect again.
And that carried forward into my volunteer placement. I wasn't sure I was up to teaching English to a group of kids, to handling a classroom, to creating fun ways to learn. It seemed an impossible task, not to mention that I was sure I'd feel like a dork. Then I asked the students to tell me a little about themselves, and what they want to be in the future. They couldn't. It broke my heart. But by the end of our two weeks, they were proudly standing before the group, stating their goals. And they all had dreams. My hope is that I helped them live into those dreams, and that something of what I tried to convey stuck. I fell in love with each one of them. They changed me forever.
And, most importantly, there were entire days where I did not think about cancer once. My identity is so much more than a disease. I had forgotten that. And now I'm alive, and colorful, again. That would never have happened without A Fresh Chapter."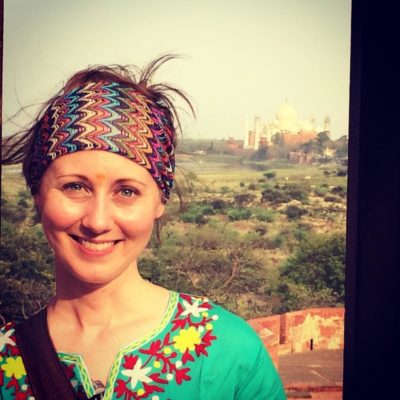 Heather (2016 India Odyssey): One of the challenges I've experienced in coming to India is feeling as though I cannot possibly make a difference. There is so much need here and the culture is so complex and contradictory it is nearly impossible to fathom – let alone work within. But I've also found that kindness is able to transcend even the most daunting language barrier. Most of these people are eking out an existence somewhere at the bottom of Maslow's Hierarchy and when we walk through the doors of Mother Teresa's they clamor for our attention, to hold our hands, to be seen. 
It is lovely and confusing and devastating all at once and frankly I don't know how we will manage to walk out of their lives at the end of our time here.
Though most of our contribution has been simply to give our attention and time, to work alongside them as to scrub floors and hang laundry – there have been some phenomenal breakthroughs as well. Yesterday the bedridden Tibetan woman we have been caring for was able to get up to a chair and sit in the sun. The sisters are using the barrier cream I found and taught them to use, her wounds are beginning to heal. When she was wheeled into the courtyard, the other patients came to greet her, to welcome her to the fold, to cheer her progress. The sweetness of this interaction was one of the most purely human moments I have ever experienced.
And so my lovely friends, if you ever are questioning your ability to make a difference in this world – I assure you the only way it can be done is one person at a time.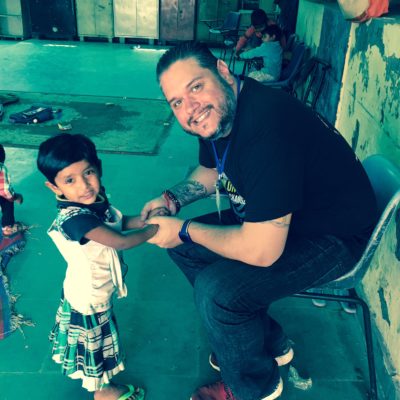 Eliel (2016 India Odyssey): For those that know me well you know that i love kids (explains why I have 5)…This trip to India is not only giving me the opportunity to start a fresh chapter in my life but it has also allowed me to spend time with beautiful kids who unlike many of us do not have the luxuries we sometimes take for granted..But they have something much more valuable; joy, happiness and a genuine heart. And no matter how difficult and chaotic life may seem around them they always have a smile in their face and look at you with their bright eyes filled with love. This is worth so much more then anything money can buy…
What an experience this has been for me! It's been an eye opener, new perspective, lesson in finding happiness and an inspiration to be a better person, father, husband and friend. I am not going to lie, It has not been easy to get out of my comfort zone. The noise, smells, language, hard bed, new food, chaotic traffic, poverty and rollercoaster of emotions can be very overwhelming. However; it is so worth it, my heart is filled with love, joy and purpose! Coming out of my comfort zone has been the best thing I have done in my life! Today, here, now is where I was meant to be and I would not change this moment for anything in the world!