Rolling Applications Are Open! Apply Now To Join AFC in South Africa, Peru, India, or Costa Rica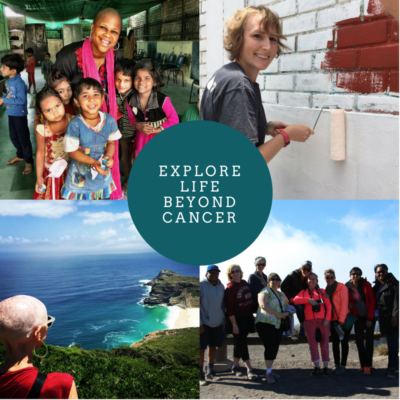 Have you been impacted by cancer and want a meaningful way to expand your story? A Fresh Chapter offers patients, survivors, and caregivers an opportunity to heal the emotional scars of cancer through perspective-shifting travel experiences in the U.S. and around the world. Since 2013, we have continued to grow and we're excited to now offer programs in four international locations – South Africa, Peru, India, and Costa Rica. This is the first time you can apply once and be considered for any of our four upcoming programs!
Each International Odyssey Program includes a 2-week volunteer experience where you will have the opportunity to make lasting connections with others who have also faced cancer. Together, you will volunteer with an underserved community while immersing yourself in a new culture. You'll also share an awe-inspiring experience like a trip to see the ruins of Machu Picchu or an unforgettable sunrise over the Taj Mahal. In addition to our time on the road together, you will receive extensive tools, resources, and support before and after you travel to help you explore life beyond cancer.
We know cancer can make it difficult to plan ahead, which is why we've held back a limited number of spots on our upcoming fall programs. Apply before midnight (PST) on Thursday, June 22, 2017 to be considered for our 2017 South Africa or Peru tribes. Or, apply now for your best chance of securing a spot in one of our 2018 programs.
Fall 2017 and Spring 2018 Dates Confirmed!
If you have been looking for a meaningful way to make something other than cancer the most recent story in your life, Apply Today. The first step in the application process is an opportunity to speak with an A Fresh Chapter Alum to help you determine if our programs are right for you. Please help us spread the word by sharing this post with your social networks – so we can reach more people in need of a fresh chapter in their lives. Our tribe has grown because of you! Together, we are healing the emotional scars of cancer while building a better world.